9 Best Free Software To Add Audio To Video For Windows
To attach audio to video, we can use any basic video editing software that are available on the internet. Most of the video editing programs that are available are not free, but there are few free and yet powerful software available to perform this task easily. There are websites present that perform the same task, however, they consume a lot of data & time and is not a viable option.
The following article enlists top free video editing software which can be used to merge a desired audio with a video. Most of these video editors support various video formats such as AVI, WMV, MPG, MP4, MKV, 3GP, SWF, FLV, etc. So, let's get to know these video editors.
You can also try these best free Video Editors, Video Converters and Audio Editors software.
Here Are The Best Free Software To Add Audio To Video For Windows:
Windows Movie Maker
Home Page Download Page
AVIDEMUX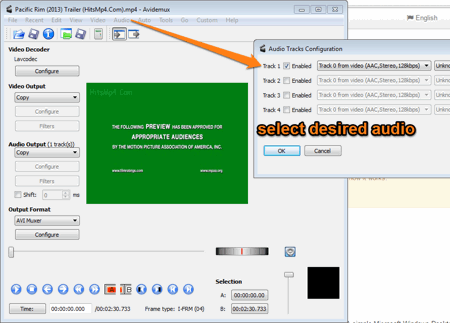 Home Page Download Page
VSDC Video Editor
Home Page Download Page
Cute Audio Video Merger
Home Page Download Page
Virtualdub
Click here for a list of free video converters.

VIRTUALDUB is designed to process AVI format videos, though it can read but not write MPEG-1 videos. It can perform basic editing on a video or a batch of videos with the help of different transition effects and also borrows 3rd party filters to be applied on them.

Home Page Download Page
Kate's Video Toolkit
Home Page Download Page
Vidiot
Home Page Download Page
MediaCoder
Home Page Download Page
My MP4 Box GUI
MP4Box. MP4Box lets you to rapidly and effortlessly perform operations. It can be used to add audio to video. This only works for a video which doesn't have any audio muxed to it.

Add the audio & video under the MUX tab, click on MUX to execute the MUXING/Merging. The video fps can be changed as well before saving it. Other options available with this software are DEMUX, JOIN & SPLIT.

Home Page Download Page
---