26 Best Free Software To Remove Viruses
Here are 26 best free software to remove viruses from your computer. These let you remove all types of viruses from  your PC easily. All these virus removal software  are completely free and can be downloaded to Windows PC. These free software offer various features, like: can remove all types of viruses from your computer easily, identify and eliminates viruses from your computer and make your PC run virus free, also blocks and removes spyware, worms, trojans, dialers, rootkits, provides rock solid protection to your PC against all kinds of viruses etc.  So, go through this list of free virus removal software and see which ones you like the most.
You can also check out best free antivirus software and best free spyware removal software.
Avast Free Antivirus
Home Page Download Page
AVG AntiVirus Free
Home Page Download Page
Ad-Aware Free Antivirus+
Home Page Download Page
Avira Free Antivirus
Home Page Download Page
Microsoft Security Essentials
Home Page Download Page
Panda Cloud Antivirus
Home Page Download Page
Bitdefender Antivirus Free Edition
Home Page Download Page
Roboscan Internet Security Free
Home Page Download Page
Multi Virus Cleaner
Home Page Download Page
ClamWin Free Antivirus
Home Page Download Page
Returnil System Safe Free
Home Page Download Page
McAfee Stinger
Home Page Download Page
Microsoft Windows Malicious Software Removal Tool
Home Page Download Page
Comodo Internet Security
Home Page Download Page
Dr.Web CureIt
Home Page Download Page
ZenOk free antivirus
Home Page Download Page
EAV Antivirus Suite Free Edition
Home Page Download Page
UnThreat Free AntiVirus
Home Page Download Page
Xyvos Antivirus Free Edition
Home Page Download Page
Scut AntiVirus
Home Page Download Page
UtilTool Antivirus
Home Page Download Page
Arovax Shield
Home Page Download Page
AMITI Antivirus
Home Page Download Page
VirCleaner
Home Page Download Page
Baidu Antivirus
Home Page Download Page
Zillya Antivirus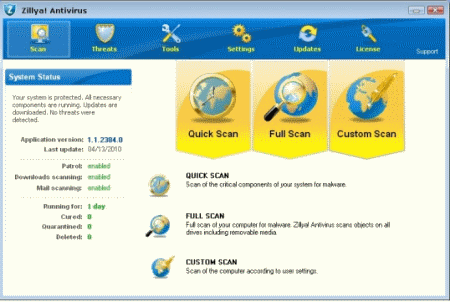 Home Page Download Page
---