25 Best Free Spyware Removal Software
Here are 25 best free spyware removal software. These let you detect, block and remove spyware from your PC easily. All these spyware removal software are completely free and can be downloaded to Windows PC. These free software offer various features, like:  provides safety to your computer against all kinds of spyware, detects, blocks and removes spyware from your PC, also provide antivirus protection to your computer from various kinds of viruses and malware, can destroy various types of malicious programs from modifying or affecting your computer, very effective against malware threats and spyware, clean your PC, remove infections from your PC etc. So, go through this list of free spyware removal software and see which ones you like the most.
You can also check out best free antivirus software and best free firewall software.
Avast Free Antivirus
Home Page Download Page
AVG AntiVirus Free
Home Page Download Page
Ad-Aware Free Antivirus +
Home Page Download Page
Avira Free Antivirus
Home Page Download Page
Microsoft Security Essentials
Home Page Download Page
Panda Cloud Antivirus
Home Page Download Page
Bitdefender Antivirus Free Edition
Home Page Download Page
ZoneAlarm Free Antivirus Plus Firewall
Home Page Download Page
Roboscan Internet Security Free
Home Page Download Page
ClamWin Free Antivirus
Home Page Download Page
Immunet Free Antivirus
Home Page Download Page
zillya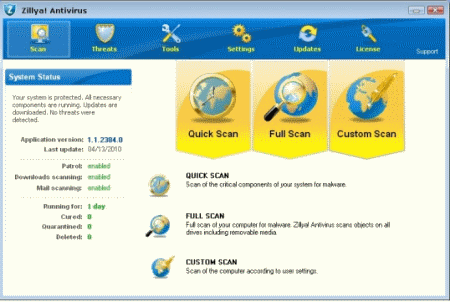 Home Page Download Page
Digital Defenders Antivirus Free Edition
Home Page Download Page
Dr.Web CureIt
Home Page Download Page
ZenOk free antivirus
Home Page Download Page
EAV Antivirus Suite Free Edition
Home Page Download Page
ARTAV Antivirus
Home Page Download Page
UnThreat Free AntiVirus
Home Page Download Page
My Free Antivirus
Home Page Download Page
Xyvos Free Antivirus
Home Page Download Page
Scut AntiVirus
Home Page Download Page
UtilTool Antivirus
Home Page Download Page
Brain Antivirus
Home Page Download Page
AMITI Antivirus
Home Page Download Page
Arovax Shield
Home Page Download Page
---