5 Best Free Anonymous Browser Software For Windows
Here is a list of best free anonymous browser software for Windows. These web browsers are used to anonymously browse the internet. Basically, these browsers hide all your activities from trackers, websites, and from anyone who tries to surveillance your activities. Most of these browsers can even hide your IP address so that no one can pinpoint you over the internet. Apart from providing the anonymous browsing environment, these browsers also block ads, trackers, scripts, etc., which can collect your data or may reveal your identity.
In terms of their functionality, these software are quite similar to any standard web browser. All the basic browser features like a search bar, history viewer, bookmarks manager, extension support, etc., are present in these web browsers. In addition to that, you can also find some advanced features like Sync, Read Mode, Task Manager, and more in some software. In general, all of these are effective yet simple and straightforward anonymous browsers. You can easily use them to perform secure transactions and other important activities over the internet without revealing your identity.
My Favorite Anonymous Browser Software For Windows:
Tor is my favorite anonymous browser because it ensures complete anonymity of its users over the internet. Plus, it also blocks all types of trackers and ads.
You can also check out lists of best free Portable Browser, Offline Browser, and MIB Browser software for Windows.
Tor Browser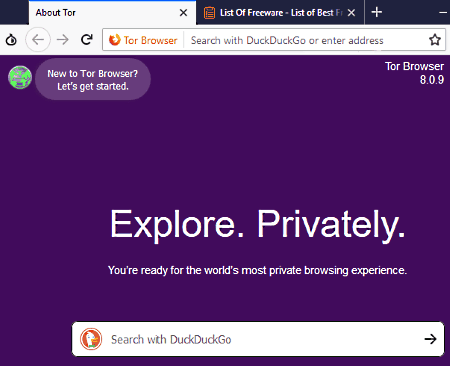 Home Page Download Page
Brave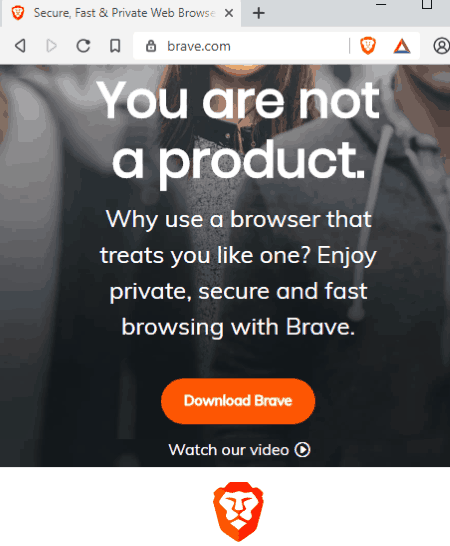 Home Page Download Page
Epic Privacy Browser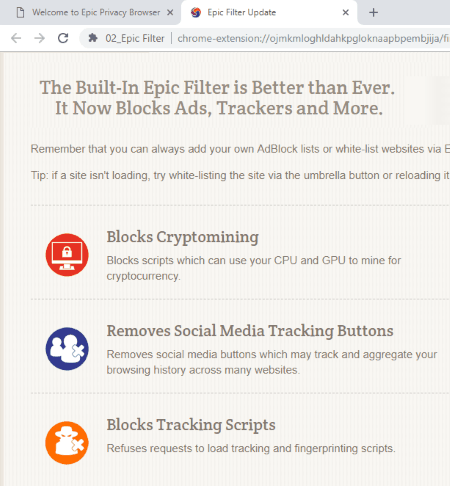 Chromium browser and looks quite similar to it. However, unlike Chromium, it gives you an anonymous browsing environment, blocks ads, blocks trackers, and provides many other privacy features.
Main Features:
Epic Proxy: It is the most advanced feature of this browser that hides your IP address, location, and encrypt all the data that transmits through your system.
Epic Filter: This feature is enabled even in the normal mode that blocks crypto mining (blocks scripts which can use your system to mine cryptocurrency) and tracking scripts.
Umbrella: It allows you to manually define whether you want to block plugins, ads, and trackers or not. Plus, it also gives you options to view all the blocked trackers and ads.
Additional Features:
Extensions: In this web browser, you can add extensions to add new features to this browser. All the Chromium browser supported extensions can also be installed in it.
Task Manager: This feature lets you view and manage all the running extensions and webpages usage. You can also terminate any extension or webpage using it.
Final Thoughts:
It is a feature-rich anonymous browser that provides all the essential features which help you remain anonymous over the internet.
Home Page
Download Page
Comodo Dragon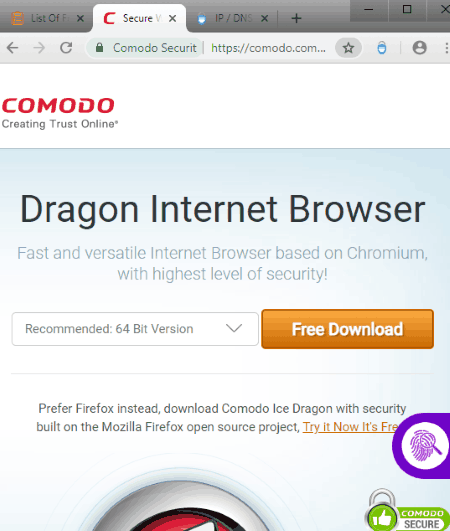 Home Page Download Page
SRWare Iron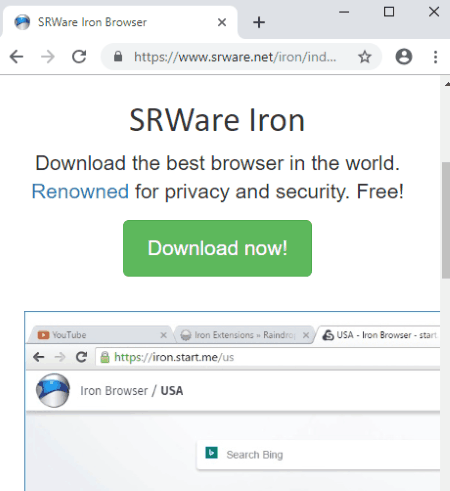 Home Page Download Page
---