5 Best Free Video Explorer Software For Windows
Here is a list of best free video explorer software for Windows. If you need to explore and manage videos or movie files on your system, then you should use these video explorer software. These software allow you to centralize multiple video directories and folders present in different locations of your system. After these software centralize all your video content in one place, you can easily explore all your videos without much hassle. Through some software, you can also explore videos present on servers and on different systems of a local network. To explore videos, these freeware offer some exploration features like search, sort, filter, etc. Plus, you can also view relevant information about explored videos like aspect ratio, resolution, audio codec, aspect ratio, etc.
Through these video explorer software, you can also play videos as they all come with an inbuilt video player. In video players of these video explorers, you can find all essential features like seek bar, volume controller, next/previous track, repeat video, etc. A good variety of video file formats are also supported by media player of these video explorers like MP4, AVI, WMV, MOV, FLV, M2TS, etc. Apart from these features, you can find some additional features in these software. Some of the additional features which you get in these freeware are Profiles, Add-ons support, Screenshots, Video Downloader, and Online Radio. Go through the list to know more about these software.
My Favorite Video Explorer Software For Windows:
Kodi is my favorite software because it offers all the essential video explorer features. Its inbuilt video player is also quite powerful as it can handle videos of various different formats. I also like its beautifully designed interface that makes video exploration and management quite easy.
You can also check out lists of best free Video Codec Converter, Open Source Video Player, and 4K Video Player software for Windows.
Kodi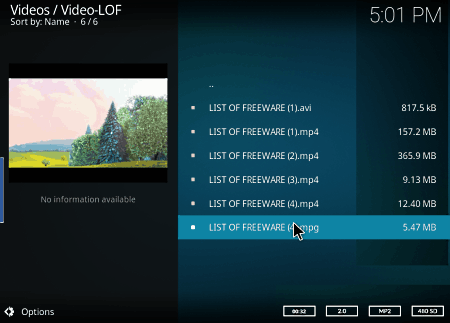 Home Page Download Page
CherryPlayer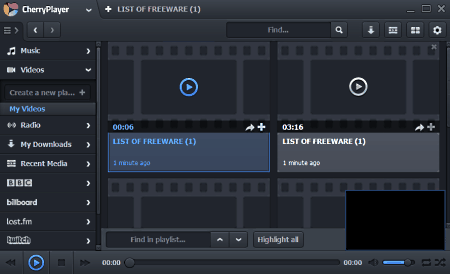 Home Page Download Page
Movies & TV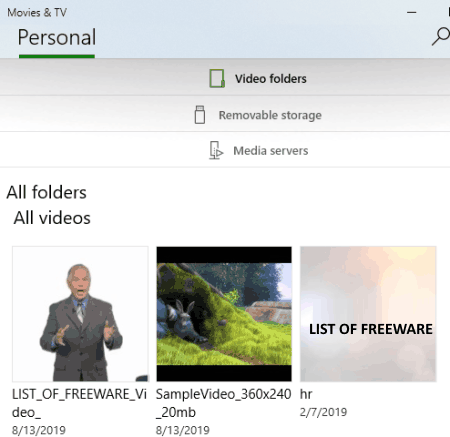 Home Page Download Page
Kinovea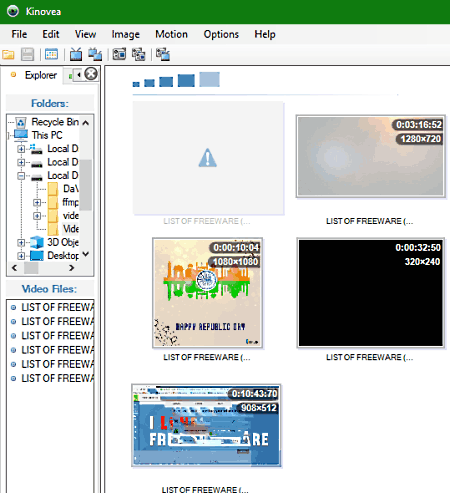 sports video analysis software for Windows. This sports analysis software can also be used as a video explorer software. In this software, you get an internal file explorer to search for videos present at different locations. Now, to centralize all your videos for better video exploration, you can use its Shortcut section. The shortcut section allows you to create shortcuts of all video containing folders on its interface that you can easily access.

Besides video exploration, it provides many sports video analyzing features like slow-motion video playback, video magnifier, perspective grid, text tool, angle, and more. Through this software, you can explore and play videos of MKV, MP4, AVI, WMV, etc., formats.
Main Features:
Explorer: Using it, you can easily explore videos present in any part of your system.
Shortcuts: It lets you create shortcuts of all the folders or directories which contain videos for quicker video exploration.
Two Playback Screen: It is a handy feature that lets you play the same or two different videos at a time.
Additional Features:
Sports Analysis Tools: As mentioned earlier, this software offers many sports analysis tools through which you can find out the angle of motion, analyze fast movements by slowing them down, mark important positions over a video using text, circle, and marking tools, etc., and more.
Screenshot: Using it, you can take snapshots of individual frames of a playing video.
Save Composite Video: This tool lets you save a small portion of a video in MKV, MP4, and AVI formats.
Final Thoughts:
It is another decent video explorer software through which you can easily create shortcuts of video directories which you can quickly explore from its interface.
Home Page
Download Page
---